Texas Basketball
With the arrival of Rick Barnes as Head Coach in 1998, the Longhorns have become a hot ticket and are only getting hotter as Texas climb to the top of the Big 12.
Playing at the Frank Erwin Center, the Horns shares battle toe to toe with some of the nation's best such as UConn and North Carolina, as well as a recent rivaly with the Kansas Jayhawks for Big 12 supremacy.
Longhorns Basketball 2015-2016 Schedule
11/13/15 vs. Washington*
11/21/15 vs. Texas A&M-CC*
11/25/15 vs. Texas A&M*
12/1/15 vs. UT-Arlington
12/4/15 vs. Samford
12/5/15 vs. UTSA
12/12/15 vs. North Carolina
12/15/15 vs. Appalachian State
12/19/15 at Stanford
12/29/15 vs. Connecticut
1/2/16 at Texas Tech
1/5/16 vs. Kansas State
1/9/16 at TCU
1/12/16 vs. Iowa State
1/16/16 vs. Oklahoma State
1/20/16 at West Virginia
1/23/16 at Kansas
1/26/16 vs. TCU
1/30/16 vs. Vanderbilt
2/1/16 at Baylor
2/6/16 vs. Texas Tech
2/8/16 at Oklahoma
2/13/16 at Iowa State
2/16/16 vs. West Virginia
2/20/16 vs. Baylor
2/22/16 at Kansas State
2/27/16 vs. Oklahoma
2/29/16 vs. Kansas
3/4/16 at Oklahoma State
*Played at a neutral location
 Frank Irwin Center
The Longhorns play home games at the Frank Irwin Center.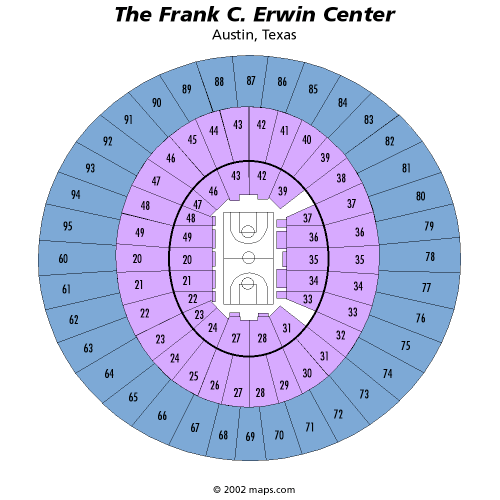 Texas Basketball Tickets
Direct from the University of Texas:
UT Athletics Ticket Office Location: Bellmont Hall, First Floor Lobby
Lobby Hours: Monday – Friday, 9 a.m.-4 p.m. CT
Phone Hours: Monday – Friday, 9 a.m.-6 p.m. CT; Saturday, 10 a.m.-4 p.m. CT
Phone: (800) 982-BEVO or (512) 471-3333
Mailing Address:
P.O. Box 7399
Austin, TX 78713-7399
University of Texas Online Ticket Purchase: TexasBoxOffice.com – UT Men's Basketball
LonghornTickets.com
Where can you find tickets for the sold-out 2008 Final Four Tournament tickets? We've got the information you need to find tickets for every UT Basketball game and Final Four. LonghornTickets.com not only offers you the best information on where to buy these hard to find tickets for the Running Horns, but we also provide the best selection of prices and availability for all Texas Basketball regular season games.
Disclaimer
LonghornTickets.com is not affiliated in any way with the University of Texas, DKR Memorial Stadium or the Frank Erwin Center. You can purchase tickets to UT Sporting events from them directly by visiting, www.Texassports.com, The University of Texas Official website, or the Frank Erwin Center Box office.
LonghornTickets.com is an affiliate web site of TicketCity.com, one of the largest and most reputable ticket brokers in the world. Longhorntickets.com is your source for information, schedules, scores and tickets, for all major Longhorn sporting events.