Texas Football
The Texas Longhorns are are one of the top 3 winningest college football programs in history, behind only Michigan, and Notre Dame. Seeing a Longhorn football game is seeing the sport played to perfection. Playing home games at the historic Darrell K. Royal-Texas Memorial Stadium, the Longhorns routinely pack the 102,000+ capacity stadium.
Texas football is rich with history, championships, and rivalries. Whether it's the Red River Showdown, the Thanksgiving Day game against TCU, a Bowl Game, or just regular season play, there's electricity in the air during a Longhorn Football game.
2015 Schedule
9/5/2015 at Notre Dame
9/12/2015 vs. Rice Owls
9/19/2015 vs. California 
9/26/2015 vs. Oklahoma State 
10/3/2015 at TCU
10/10/2015 vs. Oklahoma (Cotton Bowl)
10/24/2015 vs. Kansas State
10/31/2015 at Iowa State
11/7/2015 vs. Kansas Jayhawks
11/14/2015 at West Virginia
11/26/2015 vs. Texas Tech
12/5/2015 at Baylor
Prior to a UT home football game there is tailgating going on all around DKR Memorial Stadium. Although the primary tailgate location is south of the stadium near the Bob Bullock Texas State History Museum. The epicenter of pregame activities is Scholz Garten, which is a popular bar on Longhorn gameday. You have to get there early to get a spot in Scholz, but they have a full bar and menu of German cuisine.
Home Game Activities
After UT games much of the crowd returns to Scholz's or tailgating until traffic dies down. Then people start heading down to Austin's entertainment district. The bars and restaurants around 4th Street and West 6th Street are usually packed with football fans a few hours after a game. For the college aged crowd, the eastern part of 6th Street is the place to be. Bars in Austin stay open until 2AM, so there is plenty of revelry after University of Texas home football games.
DKR Memorial Stadium
Darrel K Royal Memorial Stadium is the home of the Longhorns Football Team.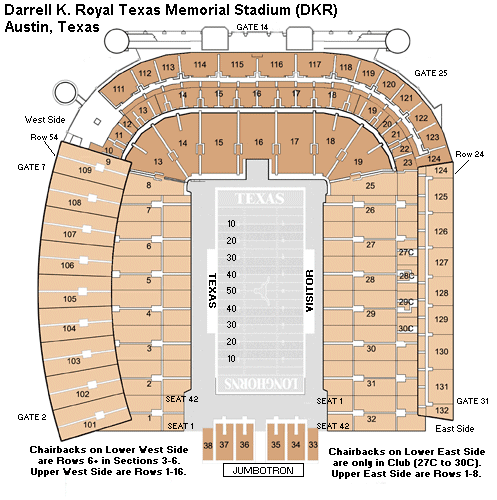 Texas Football Tickets
Direct from the University of Texas:
UT Athletics Ticket Office Location: Bellmont Hall, First Floor Lobby
Lobby Hours: Monday – Friday, 9 a.m.-4 p.m. CT
Phone Hours: Monday – Friday, 9 a.m.-6 p.m. CT; Saturday, 10 a.m.-4 p.m. CT
Phone: (800) 982-BEVO or (512) 471-3333
Mailing Address:
P.O. Box 7399
Austin, TX 78713-7399
University of Texas Online Ticket Purchase: TexasBoxOffice.com
Where can you get seats on the 50 yardline for any Texas Football game at Darrell K Royal Memorial Stadium? Where can you score those hard to find TX/OU Tickets? You guessed it, LonghornTickets.com, a great source for information on all Longhorns Football Tickets!
LonghornTickets.com provides information, Texas Longhorns ticket prices and availability for all Texas Football Regular season games, as well as, Big 12 Championship tickets and all College Football Bowl Games. Our service provides access to many Longhorns tickets for every football game with seats ranging from upper level chairback seats to lower endzones. Through TicketCity.com, we offer a variety of Longhorns Season Ticket Packages that include endzone club passes, tailgate parties, parking, etc.
Disclaimer
LonghornTickets.com is not affiliated in any way with the University of Texas, UT Athletics, the Longhorn Foundation, DKR Memorial Stadium or the Frank Erwin Center. You can purchase tickets to UT Sporting events from the school directly by visiting, www.Texassports.com, The University of Texas Official website, or the Frank Erwin Center Box office.
LonghornTickets.com is an affiliate web site of TicketCity.com, one of the largest and most reputable ticket broker in the world. Longhorntickets.com continually has updated information, schedules, scores, and ticket information for all major Longhorn sporting events.